Aldenine™ aka Tripeptide-1, is also a part of Hilurlip™, with two protein peptides ( hydrolyzed soy and wheat protein ) making an amazing lip wrinkle smoother and photoaging preventer (protect skin cells from UVA induced DNA damage and also prevent photoaging, thus improving the skin's appearance).
Algae is a powerful ingredient that provides nutrients and minerals to the skin to draw out toxins. It works to hydrate skin and is a capable antioxidant too. Algae has been used in skin care for thousands of years and when topically applied it helps to promote radiant skin tones.
Aloe is an all natural ingredient that contains antioxidants, enzymes, Vitamins A and C and works as an anti-inflammatory that helps to treat acne and dry skin. Aloe is a great healer for damaged or burned skin and the ability to moisturize dry cells. It is safe for daily use and helps with anti-aging, boosting cell turnover and reducing redness of skin too.
Alpha Lipoic Acid is an antioxidant. It helps to restore skin and give a renewed skin appearance by improving skin texture and tone. Used at a lower concentration this enzyme works great to help restore a youthful look and slow down the aging process. Alpha Lipoic Acid also works as an anti-inflammatory to help reduce pore size. This is a light sensitive ingredient so it usually requires night use for best results.
Argireline™ is a peptide that helps with prevention of wrinkles in the skin. When it is absorbed into the body and the cream's chemical composition causes the facial muscles to contract with less force helping with the reduction of wrinkles. This peptide can be quite effective, and in some cases with just the use of Argireline alone, users have experienced up to a 30% reduction in fine lines and wrinkles.
B5 has been shown to be an effective moisturizer on the skin that enhances the healing process of skin wounds.
Beta Glucan are polysaccharide sugars which work to soothe and calm irritated skin as well as being an effective anti-aging and skin plumper ingredient. Beta Glucan is high in antioxidants that help protect against oxidative stress that can cause premature aging. By neutralizing free radicals Beta Glucan helps us to retain our youthful looks. Studies have shown Beta Glucan to be effective at reducing fine lines and wrinkles. Beta Glucan is a multiple functional ingredient that helps with increasing moisture, helps sooth skin and has anti-aging properties by forming an undetectable film which helps protect skin from environment stresses. Beta Glucan is not new and has been around for at least 50 years and has been the subject of numerous studies on how it helps to heal skin in a medical community. It is also known for having an immunity boosting property too.
Boswellia Serrata is extracted from the serrata tree , the extract has been studied and proven to reduce inflammation and protect skin cellular breakdown. The inflammation harms the skin by causing degradation of collagen and increases the MMP (matrix metalloproteinases) levels. This extract also has proprieties to help firm skin, increase elastin and help minimize wrinkles.
Citrustem™ is made from orange stem cells and works by organizing the inner structure of the skin for a younger appearance. In facial formulations, it organizes and re-densifies the dermis structure, repairs the extracellular matrix, and improves cellular adhesion. The result is skin that recovers the elasticity it had nearly a decade ago with a softer and more velvety complexion plus a younger appearance. Stem cells are undifferentiated cells found in all multi-cellular organisms. In plants, stem cells are capable of regenerating the entire plant.
Chrysin is a flavanoid, derived from plants, that is well document for having anti-inflammatory and anti-carcinogenic capabilities. This flavanoid is also know for reducing the appearance of skin discoloration as well as being an antioxidant.
Collagen is a protein that is a major component of connective tissues in our skin. It is responsible for providing your skin with structure. This protein helps to keep your skin firm and wrinkle free when high amounts are present. When we are young, our bodies have high levels of collagen but as we age our collagen levels decline. As our collagen levels decline our skin becomes wrinkled as the structure is compromised and there is not enough collagen to maintain skin firmness. Replenishing collagen is the key to helping your skin keep it's young appearance and reduce wrinkles. Another well known benefit of collagen in skin care is it's ability to promote vibrant and glowing skin.

Before and after collagen replenishment.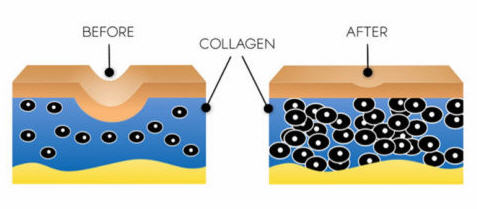 Collaxyl™ is a clinically proven preservative free ingredient that helps to visibly reduce the length and depth of wrinkles. It has also been shown to be highly effective in the reduction of acne scars. Collaxyl™ is an amazing healer that has the ability to repair skin by helping cells to regenerate. In studies Collaxyl™ has been shown to be able to regenerate a tear in a piece of dead skin in just 72 hours with only a single application.
Copper Tripeptide-1 is naturally occurring in the body, it is composed of the amino acids Glycyl-histidyl-lysine, which spontaneously bind to copper, also known as GHK Cu. Copper Tripeptide-1 has many benefits within the human body such as the production of glycosaminoglycans, such as hyaluronic acid, which helps in the reduction of wrinkles. Copper peptide also helps to remove damaged collagen.
Decorinyl® is a tetrapeptide that helps to regulate fibrillogenesis and the growth of collagen fibrills causing improved skin cohesion for a more flexible and resilient appearance. This ingredient helps the skin to regain suppleness, increased tone and helps mature skin to look younger.
DERMAXYL™ is a peptide that smooths out wrinkles while strengthening the skin's natural barrier function. Its activity is based on peptide technology and tilizes a Matrikine- Ceramide 2 concept to combat the signs of aging. 75% of the volunteers stated that the product smoothes the skin, 52% observed a decrease in wrinkles and crow's feet.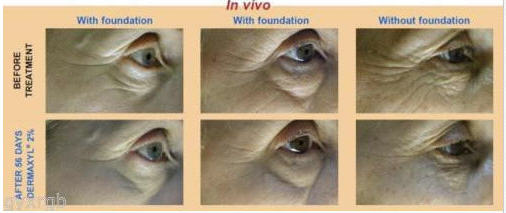 DMAE is an amazing nutrient that helps to extend the life of cells by inhibiting the cross linking of proteins this gives the skin a tone and firm appearance. DMAE offers anti-aging ability by helping to reduce the appearance of wrinkles, reduce dark circles under the eyes and improve sagging skin by the neck line and jawline. The firm appearance that DMAE provides takes about 20 minutes to occur and usually wears off by the end of the day. DMAE has become very popular as a result of Dr. Nicholas Perricone, M.D.'s top-selling book, The Wrinkle Cure, in which he promotes supplementing with DMAE as a treatment for reducing wrinkles. When applied to the skin DMAE stimulates acetylcholine release which triggers a response in the muscles of the face. This activity creates a firmer facial tone and less sagging.
EGF is a polypeptide that has come to the beauty market via the medical industry. EGF was developed to help speed wound recovery and does this by stimulating skin growth at a cellular level and is suspected to increase collagen levels too. In some cases EGF has had an effect on the reduction of the appearance of acne scars.
Eyeliss™ contains three peptides, Hesperidin Methyl Chalcone, Dipeptide Valyl-Tryptophane and Lipopeptide Pal-GQPR. Clinical studies have shown it to be very effective in reducing under eye puffiness, dark circles and bags and in tests, 70% of users showed a vast improvement in less than 2 months.
Hesperidin Methyl Chalcone is a natural ingredient derived from flavonoid hesperidin found in citrus fruits like grapefruit and oranges. This rather newly discovered ingredient helps to strengthen capillaries and veins as well to improve lymphatic drainage and circulations which tones the delicate under eye area.
Dipeptide Valyl-Tryptophane is a peptide that promotes the drainage of fluid that collects under the eye creating bags and puffiness.
Lipopeptide Pal-GQPR is another peptide that decreases inflammation, improves skin elasticity and firmness, and reduces fine lines and wrinkles.
Haloxyl™ is is a synthetic ingredient made to reduce dark circles under the eyes and studies have shown an improvement between 19% and up to 45%. In some cases in the complete reduction of dark circles has been accomplished. This product is specifically targeted to treat one of the most chronic under eye issues, dark eye circles.

During extensive experiments of the most effective treatments of this specific indication, scientist found that the association of two matrikines: Pal-GHK and Pal-GQPR with N-hydroxysuccinimide (NHS) and a flavinoid: Chrysin was the most effective combination to eliminate dark circles and inflammation. During testing large percentages of volunteers displayed reduction in all b-, b+, a-, and a+ color ranges. Pal-GHK and Pal-GQPR reinforce firmness and tone of the eye area. Chrysin and N-hydroxysuccinimide activate the elimination of blood originated pigments responsible for dark circle color and local inflammation.
Hilurlip™ consists of particles of Sodium Hyaluronate (collagen) which have been micronized to enhance penetration and efficacy. The micro particles of Hyaluronan swell when they come into contact with skin water, producing a long-term plumping effect on the lips. HILURLIP™ contains Hyaluronic acid and powerful Tripeptide-1 GHK that can significantly plump ( line filling ) and boost collagen around the lip area. Tripeptide-1GHK also protects the lips against the harmful effects of sun exposure and prevents the loss of collagen elasticity and protects skin cells from photo damage.
After 30 days of treatment, HILURLIP™ proved to increase the lip volume by 18% while the placebo formulation produced no effect on the lips, also improves skin hydration only 1 hour after application, immediate moisture increase of 32%, it's so easy to have the healthy lips!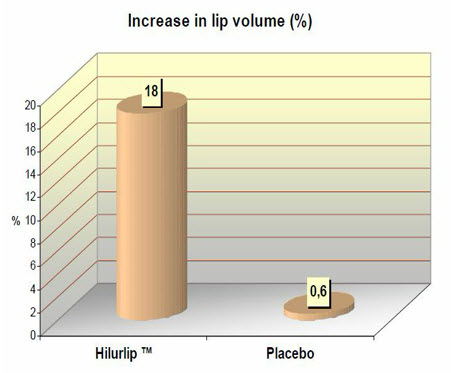 Hyaluronic acid is a naturally occurring acid found in the extracellular matrix of human tissue. Topically applied, hyaluronic acid forms an air permeable layer and penetrates into the dermis thus boosting the elasticity by affecting the collagen levels and increasing hydration of the skin.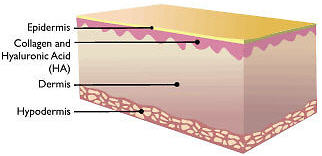 The protective breathable barrier on the skin locks in moisture which gives the skin a youthful appearance. The cuticular layer of the skin normally contains 10-20% water, however as we age it can drop to below 10%. Hyaluronic acid comes to the rescue with its unique ability to hold more than 1000 ml of water per gram. This is a key factor in allowing the skin to retain more water. Amazingly, hyaluronic acid adjusts its moisture absorption based on the relative humidity in the air. Hyaluronic acid also protects the epidermis by scavenging reactive oxygen species generated by ultra violet light which would normally cause sunspots. Hyaluronic Acid is one of the most exciting ingredients on the market today and was discovered in 1934 and has been used in personal care and wound healing ever since. Bellahut only uses hyaluronic acid derived from non-animal sources.

JoJoBa Oil is an oil that closely resembles sebum, a waxy substance that is produced by our skin glands. This oil is all natural and when placed on the skin can act as a barrier holding in moisture. It also is known to help control acne and be a very effective ingredient in controlling oily skin too. This key ingredient is a perfect additive for any cream or gel.
Lingostem™ is a natural active ingredient based on plant stem cells obtained from the lingonberry. This peptide is designed to protect the skin against UV and IR radiation from the sun. Lingonberries are considered a super food and have benefits such as antioxidant as they contain both vitamin E and C respectively. Lingonberries are also high in compounds including anthocyanins and flavonoids. These compounds have been shown to have anti-inflammatory benefits.
In tests 30 volunteers, between 30 and 60 years old. Active formula (1,5% Lingostem™) on one half of the face and placebo on the other. Two daily applications, 56 days maximum sun exposure season. Measurements at D0 and D28.
L-Ascorbic Acid (Vitamin C) is most commonly known as Vitamin C, a powerful antioxidant that helps to neutralize cell damage of free radicals. It used to fade away dark spots, sun damage and age spots. It is a water soluble solution that is essential for growth and repair for many parts of the body. Ascorbic acid is an important component for the synthesis of collagen and it also is essential in wound healing and the maintenance of cartilage.
Leuphasyl™ reduces the depth of expression wrinkles, especially in the forehead and around the eyes. It also targets "in vitro" the wrinkle formation mechanism of expression wrinkles in a new way offering an alternative/complement to peptides.
Matrixyl™ (aka Palmitoyl-Pentapeptide-3) is the trade name for a pentapeptide produced by a French supplier to the cosmetics industry. Proven in clinical studies to improve wrinkle appearance more rapidly than Retinol. The use of Matrixyl has been shown to reduce the appearance of fine lines, wrinkles, age spots. Matrixyl is one of the most effective raw materials available to the cosmetic scientist for anti-aging products.
Matrixyl 3000™ is an amazing collagen builder and is the trademark name for palmitoyl pentapeptide-3, one of the powerful peptide molecules found in the latest generation of high-end anti-wrinkle skin care products. This breakthrough ingredient stimulates collagen production in the skin and can even give BOTOX® injections a run for their money in the anti-wrinkle department. Matrixyl becomes even more effective when combined with other peptides. Researchers reported, "A highly significant reduction in the deep and moderate wrinkles was obtained on the side treated with 3% Matrixyl. At the conclusion of the study, the surface area occupied by deep wrinkles was reduced by mean of 68%. The surface area occupied by moderate wrinkles was reduced by mean of 51%."
Reduction in depth of regular wrinkles up to 29%

Increase overall Collagen synthesis by up to 117%

Increase Collagen IV synthesis by up to 357%

Increase Hyaluronic Acid by up to 267%
Matrixyl S6 is the latest addition to the Matrixyl family of peptides. This peptide focuses on stimulation of six major contents of the skin. Collagen I, Collagen III, Collagen IV, Fibronectin, Hyaluronic Acid and Laminin-5. Studies have shown collagen type I had increased by 105%, collagen type III had increased by 104% and collagen type IV had increased by 42%. When applied as a crows feet treatment studies have shown a reduction in wrinkles by over 16% and when applied as a treatment for wrinkles on the forehead studies have shown a reduction in wrinkles by 32%. The best thing is that this peptide treats the skin differently than Matrixyl 3000™ and Matrixyl™ so they can be used with each other in order to create very effective wrinkle fighting creams, serums and other skin care products.
MSM is found in all living organisms and in the human body it acts as glue to hold together amino acids. MSM feeds the formation of collagen and elastin while preventing and reducing cross-linking between cells which is the primary cause of wrinkles and scar tissue. We've seen reports of MSM eliminating wrinkles, brown spots, spider veins and being an effective acne fighter and acne scar reducer. MSM has been used to help with the repair of scar tissue for burn victims. Many report relief from allergies after using MSM too. Other reports have indicated that MSM will remove parasites from the body, and help the body to detoxify itself.
Niacinamide / Viamin B3 helps protecting the skin's immune function and gently suppresses transfer of melanosome packets from the melanocyte to the keratinocyte while regulating excessive sebum output without leaving skin feeling dry or stripped. Niacinamide also increases the rate of skin exfoliation and increases moisture barrier repair. Studies have shown it to be useful in increasing synthesis of collagen and lipids, inhibiting the transfer of melanosomes and decreasing inflammation.
Pepha®Tight has been referred as a liquid face lift by many. This formulation has algae and contains pullulan which is a film former, which is water soluble, that gives this ingredient the ability to form a thin film over the skin creating an instant firming effect. Pepha®Tight also contains polysacharides which help accelerate the oxygenation of the skin, in turn, this helps cellular turnover and the building of collagen and elastin. More collagen means less wrinkles.

Pentavitin®
PENTAVITIN® ensures instant, deep hydration by generating a moisture reservoir that lasts for up to 72 hours from the final application. It also offers valuable benefits such as a 50% improvement in skin smoothness and softness and more than 50% reduction in flakiness and itchiness caused by dry skin after only two weeks of application. This ingredient is an identical carbohydrate complex of naturally occurring saccharides and is a 100% natural, plant-derived ingredient with both ECOCERT approval and NATRUE certifications. It is preservative free and will provide a gentle, effective moisturizing effect for your skin. As proven by extensive in-vivo and gene expression studies this peptide leads to more and better hydrated epidermal cells and an improved skin barrier.



PhytoCellTec™ preserves the ability to form new epidermal tissue. Young and vital epidermal stem cells can form a complete, multi-layer epidermis in laboratory conditions. When this experiment is conducted on older stem cells, these no longer multiply and no epidermis is formed. These stem cells are depleted and have reached the end of their lifecycle. If Malus Domestica stem cell extract is added to "old" cultivated stem cells, the cells can still generate a stratified epidermis. Under the influence of Malus Domestica stem cell extract, the epidermal stem cells retain their vitality longer and are capable of forming new tissue and renewing the skin.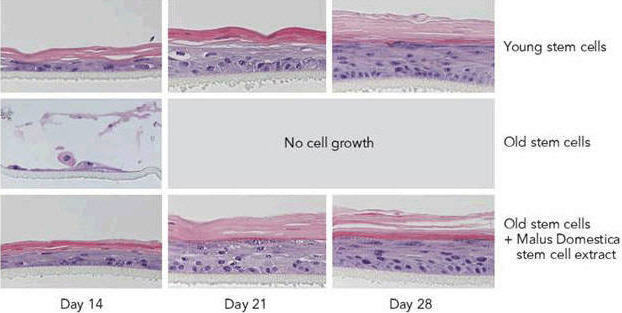 PhytoCellTec's Anti-Wrinkle Effect.
The anti-wrinkle effect of PhytoCellTec™ Malus Domestica was studied in a clinical trial with 20 subjects (aged 37 to 64). An emulsion with 2% PhytoCellTec™ Malus Domestica was applied to the crow's feet area over 28 days and the results showed a significant and visible reduction in wrinkles in 100% of the subjects.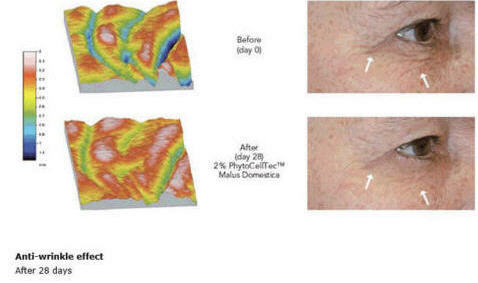 Polypeptides are chains of amino acids that are the building blocks of proteins in the skin. When peptides form a long chain of amino acids, they become proteins. When they are in a short chain of amino acids, they are able to penetrate the top layer of our skin and send signals to our cells to let them know how to function. One important protein in our skin is collagen. Collagen gives our skin its thickness and suppleness. When collagen breaks down in the skin (from age and environmental factors like the sun and stress), wrinkles form. Polypeptides applied topically to the skin can send a signal to collagen to prompt the formation of new collagen and suddenly you have the appearance of more youthful, supple skin.
Pomegranate Extract is a naturally occurring high source of ellagic acid, a polyphenol that has been shown to inhibit the growth of skin cancer and reduce cellular stress. Pomegranate is rich in Vitamin C and other antioxidants which helps to delay the signs of aging, lighten dark spots and has been an active ingredient in products to help fight acne.
Procapil is a hair growth peptide that has been clinically proven to increase the hair up to 121% and has also proven to reduce hair loss by up to 58%. Procapil has been known to work as effectively as prescription based treatments but without the side effects, harsh chemicals or strong odor. Procapil is manufactured by Sederma and has been on the market for quite some time now. It is an effective and all natural solution to hair loss.
Coenzyme Q10 helps to build the skins collagen levels and increase elastin. As we age the level of Q10 decreases and the ability of our skin to hold it's shape is lost causing wrinkles, lines and rough skin. By replenishing this well needed ingredient the skin regains it's ability to stay firm,resist wrinkles and reduce existing wrinkles.
Regu-age is a bioactive that protects the delicate skin around the eyes and visibly reduces the appearance of dark circles. Clinical studies have confrimed improvements in the skin texture of 30% with just four weeks of use. Regu-age has been specifically designed to reduce puffiness, eye bags and dark circles underneath the eyes.
Renovage™ is an anti-aging complex that helps to protect against aging by stabilization of telomere and DNA maintenance of cell division. Renovage™ helps with restoration of the skin's moisture balance and hydration as well as helps to reduce age spots. It also reduces pore size, helps to reduce sagging and thinning while reducing redness and inflammation as well. With all these qualities it has been referred to as the fountain of youth and is very effective in helping to protect against the skin showing signs of aging.
Resveratrol™ is a remarkable advancement in anti-aging skin care applications for skin resilience, reductions in fine lines and improvement in skin tone. As part of the group polyphenols this wrinkle reducing peptide has been showing great improvements for minimizing pores, reducing wrinkles and working as an antioxidant for the skin. Produced through fermentation of the small molecule, Resveratrol, with the microorganism, Pichia pastoris, this innovative biotechnological ingredient is a highly effective ingredient for use in anti-aging skin creams and serums.



The Resveratrol results are quite notable after only 28 days of use.

Retinol also known as Vitamin A is a very effective ingredient in so many of today's anti-aging products. In the past this was only available with a prescription and even today is a very popular item prescribed by dermatologist in a much higher strength for more extreme cases. Retinol is now available in a consumer strength and is one of the key elements in creating a skin care product that helps to reduce wrinkles and fine lines, help rebuild collagen and make skin more radiant and even skin tones. Retinol is safe, effective and now at Bellahut, affordable!
Snap-8 is a peptide that limits the ability of the face to squint and grin by reducing muscle movement. When the skin is relaxed, expression lines are reduced. Snap-8 is focused on the reduction of wrinkles, reducing expression lines and reducing crow's feet. It, like Argireline, is an excellent ingredient found in todays most popular anti-aging serums, creams and gels.
Squalane is a natural rich ingredient from the deep sea and is also a secret weapon in the fight against aging, it delivers the needed nutrients into the various depths of your skin and restores the natural protective barrier at skin surface, locking moisture within while keeping skin disease free.
There are several benefits of Squalane
Boosts Cell Regeneration and Oxygenation

Helps prevent formation of age spots and reduce the appearance of wrinkles

Helps skin to retain moisture and Heals chapped /cracked Skin

Antibacterial Properties

Imparts relief to dehydrated and ultra-sensitive skin

Softens the most rough-textured skin and leaves no oily residue

Helpful in counteracting conditions of eczema, psoriasis, and post-operative skin

SYN®-AKE is a small molecular weight synthetic peptide that smoothens expression lines by topical application. It mimics the activity of Waglerin-1, a natural occurring peptide found in temple viper venom which has a strong ability to relax muscle contraction.
SymPeptide® XLash is a peptide that is fast acting and can increase the volume and fullness of eyelashes by up to 25% in just 2 weeks and a 66% increase in length and density in just 4 weeks.
Tripeptide-5 ( Palmitoyl tripeptide-5, aka Syn-coll ) is a highly bioactive, deeply skin penetrating peptide (palmitoyl tripeptide-5) able to activate tissue growth factor (TGF-beta) that stimulates collagen synthesis in the skin. It can actively iron out wrinkles is good for skin firming and has great moisturizing properties. It works great on stretch marks and has been clinically proven to be effective and safe and in some cases a good alternative to collagen injections.
Tripeptide-29 is a chain of amino acids that helps to improve uneven texture in the skin and helps to reverse the appearance of dehydration in the skin. This synthetic peptide consisting of glycine, proline and hydroxyproline is also known to increase fibroblast activity for collagen I synthesis by 400%.
TRYLAGEN® is a combination of active peptides and proteins that can fight the processes that affect the quantity and quality of collagen as we age. It acts on collagen via 3 main functions:
Collagen boosting During aging, the synthesis of collagen gradually declines. The active ingredients in TRYLAGEN® boost the synthesis of collagen types I, III and IV, helping to compensate for our decreased production as we age.
Collagen organization The process of fibrillogenesis results in the formation of collagen bundles that are responsible for the strength and resiliency of the skin. TRYLAGEN® controls collagen fibril dimensions by providing a uniformed arrangement to their diameter and spacing them regularly. This provides a better cohesion and stabilization of collagen fibers, and gives suppleness to the skin.
Collagen protection After a certain age the degradation of collagen speeds up, due to an increase in MMP (matrix metalloproteinases) levels. Collagenases, a specific type of MMP, cleave fibrillar collagen into smaller fragments, which are then susceptible to further proteolysis. TRYLAGEN® inhibits the production of human MMP-2 and MMP-3, therefore avoiding excessive collagen damage in aged skin. Its anti-collagenase activity protects collagen from degradation.
Vitamin B5 is effective at counteracting the dryness that occurs in aging skin and increases the moisture retention capacity of the skin which allows dry skin to stay supple and elastic longer. It is anti-inflammatory and stimulates skin regeneration. Niacinamide and Panthenol improve the condition of the skin's moisture barrier, a function considered by dermatologists as critical to healthy skin.
Vitamin E is known for helping to reduce the appearance of scars. Another role of Vitamin E in skin care is primarily to work as an antioxidant but is also works to soften skin as well. Vitamin E also helps to eliminate free radicals and that helps to build a better level of collagen in the skin.