Introducing...
Bellahut's Private Logo Program
Get Started Today - Email us at:
[email protected]
to get setup!
What is it?
Bellahut's Private Logo program is a way to get products with your logo & business information on the label into your store, studio, boutique, etc. without the heavy costs of purchasing private label products. We created the Bellahut Private Logo Program so you are able to purchase any of Bellahut's products but with your information & logo on the label.
What is the difference between Private Label and Bellahut's Private Logo?
Private label programs usually require hundreds of units of each size to be ordered but in return you a great deal of flexability. Private label usually allows a customer to create a custom formulated product, custom packaging, custom bottles and custom boxes and a completely custom label.

Bellahut has created a way for our customers to purchase a custom labeled product with a very low minimum. Only 6 pieces of each product and size.

Once you are setup in our system and have provided the required graphic (logo file) and other information you can purchase any of our existing products with a label containing your logo, your business name, your business address, your business phone number and your business website.
Example Label Template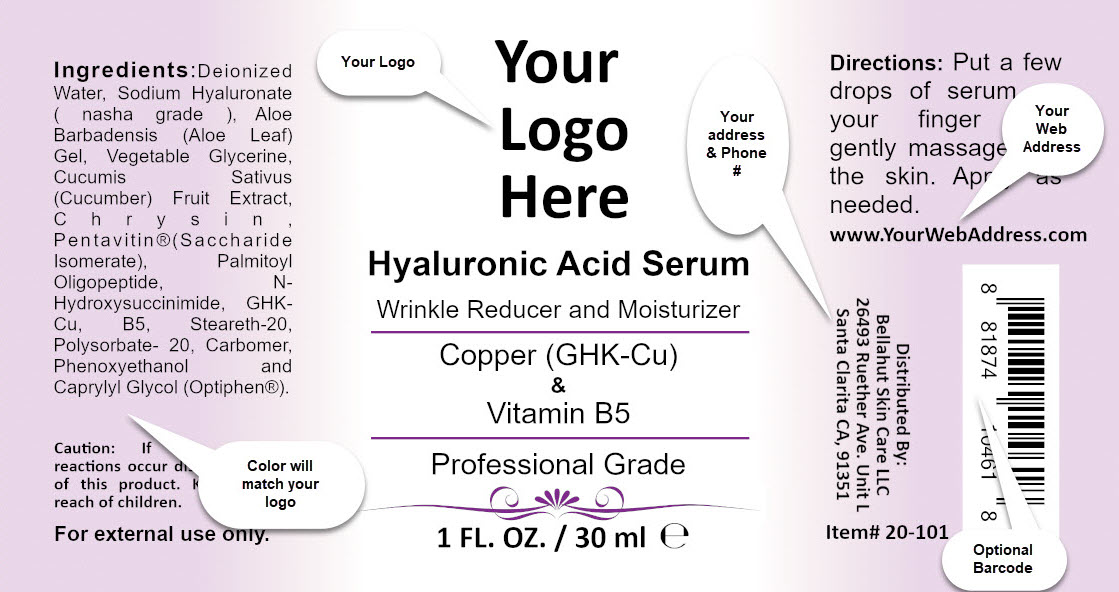 Are there any setup fees?
NO. We do however need to set you up with a login on our website and will need shipping, contact and some other general information but there is no setup fees.
How much is shipping?
We are offering free shipping to accounts located in the lower 48 contiguous United States. International account will be at standard UPS or USPS rates.
Are there minimums?
Yes, orders must consist of at least 6 pieces of each product and size combination ordered.
How much can I customize the label?
Only the specified items above in the example template will be available for customization. Labels are fairly small and only so much information can go on them. By using a single label template we are able to produce custom labels more quickly and keep minimums low.
Can you create a logo for me?
No, at this time we do not have the resources to provide design services so you will need to have a logo designed by an outside resource or if you are handy with graphic tools such as photoshop or gimp you could do it yourself. Logos must be 300 or 600 dpi.
Which Bellahut products are available for the Private Logo program?
Any product that is currently listed on our website is available for private logo services.
Can I get custom packaging? (bottles, boxes, etc.)
Unfortunately not at this time although it may become an available option in the future. Packaging will be what is shown on our website for each item. Keep in mind this helps keep costs low and minimums to only 6 units.
How fast can I get my Private Logo Bellahut products?
Depending on demand at the time of your order, how many different products you ordered and the current backlog we anticipate a fairly quick turnaround of less than 7 business days to ship an order once setup is complete and an initial label is approved. If demand is high it could be up to 15 business days to produce and ship.
How will I know what it will look like?
For your first item we will work with you to design your first label. By email we will send you copies to approve. Once the first label is approved, your following labels will use the same information and the same or similar format depending on the label requirement for the product you order.
What if some of my information won't fit on a smaller product label?
We also provide you with a .pdf or MS Word document (your preference) for each product that you order. It will have your logo, website, address, phone number and the product information such as ingredients, use instructions, etc. You can print these documents and give them to your customers when they purchase the correlating product.
Can I request custom formulations?
Not at this time but we have over 140 different items which we can Private Logo for your business.
GET STARTED TODAY !!
EMAIL US AT :

[email protected]